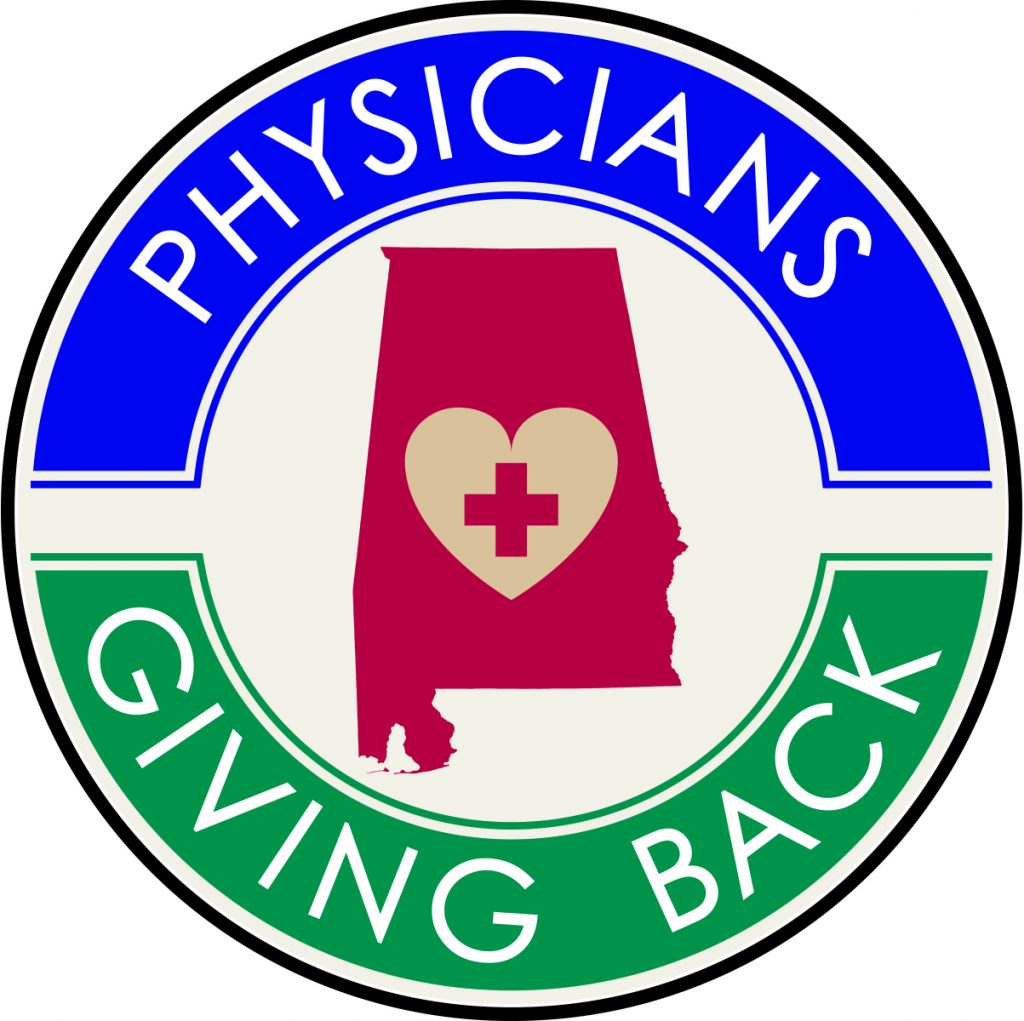 The Medical Association's members are unique individuals dedicated not only to the health and welfare of the patients they treat every day but also to the communities in which they live.
Each month, we will share these inspiring stories of our physicians making a difference. If you have questions about our Physicians Giving Back segments, please contact Mallory Camerio.
2019 Physicians  Giving Back
June — How to Have it All with Kre Johnson, D.O.
April — Etowah County's "Physicians Who Care" with Seth Spotnitz, M.D., and Matt Lovato, M.D.
March — It's Not Just About the Medicine with George Koulianos, M.D.
February 2019 — Celebrating Black History Month: Meet Alabama's First African-American Physician
January 2019 — Following Your Passion with Peter Strogov, M.D.
2018 Physicians Giving Back
December 2018 — Out of Chaos…Life…with John Mark Vermillion, M.D.
November 2018 — What Challenges You With Jefferson Underwood III, M.D.
September 2018 — A Promise to Help with Sandra Mathews Ford, M.D.
August 2018 — Remembering Ronnie Lewis, M.D.
July 2018 — It Began with an Email with Dr. Stephen Russell
June 2018 — Just Call Her Dr. Fun with Dr. Lynn Batten
May 2018 — Eat Your Veggies with Dr. and Mrs. Bryan Strickland
April 2018 — Burnout Proof: Healing the Healers with Debbie Booher Kolb, M.D.
March 2018 — Breathing Easier with Amy CaJacob, M.D.
February 2018 — Creating a World Where Every Person Matters with Michele Kong, M.D.
January 2018 — The Many Hats of Richard Freeman, M.D.
2017 Physicians Giving Back
December 2017 — Capturing Memories with Joseph Wu, M.D.
November 2017 — Always on the Move with Jack Hasson, M.D.
October 2017 — Everybody's Got a Story with Steven Stokes, M.D.
September 2017 — Still the New Guy with Mayor Howard Rubenstein, M.D.
August 2017 — To See the World on Two Wheels with Drs. Shirley Lazenby and Michael Roberts
July 2017 — The Accidental General with Gen. Shane Lee, M.D.
June 2017 — Always Do Something You Enjoy with Suzanne Blaylock, M.D.
May 2017 — Back in Time with the Mobile Medical Museum and Charles Rodning, M.D.
April 2017 — Just a Guy with a Ladder with Lee Irvin, M.D.
March 2017 — It's All About Timing with Dyrc Sibrans, M.D.
February 2017 — Keeping Promises with Irene Bailey, M.D.
January 2017 — From the Treatment Room to the Classroom with Wick Many, M.D.
2016 Physicians Giving Back
December 2016 — All in the Family with the Smiths
November 2016 — Splash Down in Haiti and Saving Lives with Richard McGlaughlin, M.D.
October 2016 — Reading Gives You Wings with Marsha Raulerson, M.D.
September 2016 — Rammer Jammer Yellow Hammer with Jimmy Robinson, M.D.
August 2016 — It's Great to Be an Auburn Tiger with Mike Goodlett, M.D.
July 2016 — The Ministry of Rural Medicine with Roseanne Cook, M.D.
June 2016 — The Science of Food with Luis Pineda, M.D., MSHA