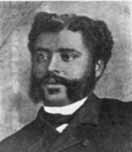 Dr. Cornelius Nathanial Dorsett was born a slave sometime between 1852 and 1859 in Davidson County, NC. He was separated from his mother, when she was sold, when he was just 2 months old. He was also the first African-American to pass the Alabama State Medical Examination.
Once slavery ended, Dr. Dorsett attended Hampton Institute in Virginia and graduated in 1878. He went to the Medical College in Syracuse, NY, but failed to graduate because of poor health and lack of funds. After his health improved, he attempted to enter the Medical College of New York City but was denied admission because of his race. Subsequently, the University of Buffalo in New York accepted him, and he was able to graduate from there in 1882. This was accomplished only after one of his former employers agreed to pay his tuition.
After completing medical school, he worked in an insane asylum in Detroit, MI. There he was able to raise enough money to allow him to move to Montgomery, Ala. in 1884.
Dr. Dorsett was the first African-American to pass the Alabama state medical examination. In the 1800s that test was a six-day written and oral test. Learning that a black person had accomplished this feat, many white physicians said they were astonished he "had enough brains to write a better examination than many whites." Booker T. Washington wrote of Dr. Dorsett in his memoirs and stated: "Many white physicians welcomed him as a colleague in arms." Some also offered their services to help him start his private practice in Montgomery.
Dr. Dorsett helped organize the National Medical Association, which continues today as the largest organization for African-American physicians. In addition to his successful medical practice, he owned an office building, operated a drug store, and established the first hospital for African-Americans in Alabama. Dr. Dorsett died in Montgomery in 1897.
Contributed by Jefferson Underwood III, M.D., F.A.C.P., President of the Medical Association's Board of Censors