Published in the Federal Register on April 30, 2019, the Department of Health and Human Services ("HHS") issued a notification to inform the public that HHS is exercising its discretion in how it applies regulations concerning the assessment of civil money penalties ("CMPs") under the Health Insurance Portability and Accountability Act of 1996 ("HIPAA"), as such provision was amended by the Health Information Technology for Economic Clinical Health Act (the "HITECH Act").
In February 2009, Congress enacted the HITECH Act which, among other things, strengthened HIPAA enforcement by increasing minimum and maximum potential CMPs for HIPAA violations. Section 13410(d) of the HITECH Act established four categories for HIPAA violations, with increasing penalty tiers based on the level of culpability associated with the violation:
the person did not know (and, by exercising reasonable diligence, would not have known) that the person violated the provision;
the violation was due to reasonable cause, and not willful neglect;
the violation was due to willful neglect that is timely corrected; and
the violation was due to willful neglect that is not timely corrected.
Although the HITECH Act set forth different annual penalty caps for each tier (for all violations of an identical requirement or prohibition in a single year), HHS determined that the language of the penalty provisions was conflicting and allegedly referenced two levels of penalties for three of the four tiers. As a result, HHS concluded that the most logical reading of the law was to apply the highest annual cap of $1.5 million to each tier of violation and that such interpretation was consistent with Congress' intent to strengthen enforcement.
On January 25, 2013, HHS adopted a final rule that applied the annual limit of $1.5 million to all tiers of violation types, as shown in the chart below:

Upon further review by the HHS Office of the General Counsel, HHS has now determined that the better reading of the HITECH Act is to apply annual limits as shown in the chart below: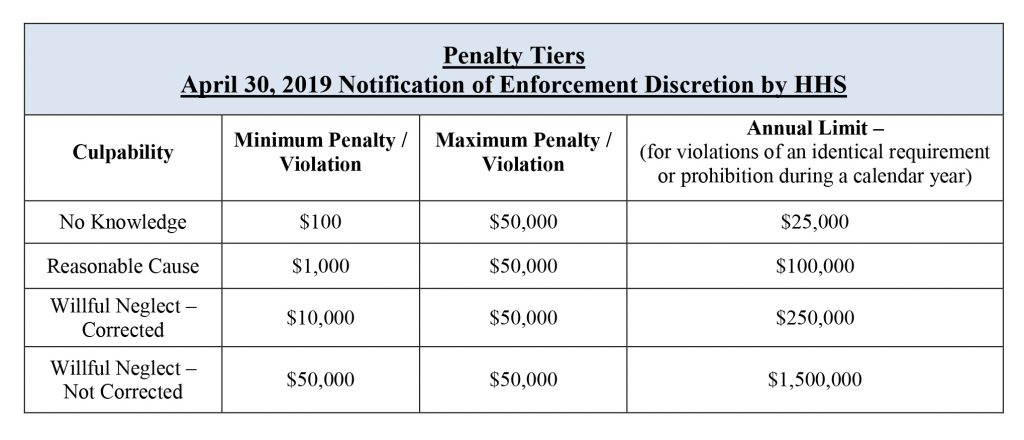 HHS is expected to engage in future rulemaking to revise the penalty tiers to better reflect the text of the HITECH Act. Until further notice, HHS stated that it will use the new tier structure shown in the chart immediately above, as adjusted for inflation.
Article contributed by Anthony Romano, a partner with Burr & Forman LLP practicing in the firm's Health Care Industry Group. Burr & Forman LLP is an official partner with the Medical Association.