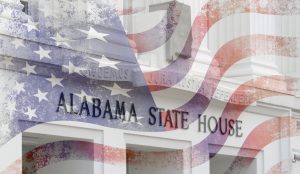 The Medical Association believes only physicians should establish medical standards and treatments. Each year during the legislative session, the Association successfully passes legislation beneficial to medicine in Alabama, as well as pushes back against proposals in the legislative and regulatory arenas on behalf of our members and their patients. This page will be updated throughout the 2019 legislative session in order to keep our members informed on the various legislation that could potentially impact their practice.
2019 Legislative Overview
2019 Legislative Recap
Another busy legislative session has come and gone! If the Medical Association had not been on call during the 2019 Legislative Session, the health of Alabama medicine would be in jeopardy. In particular, numerous expansions to the scope of practice standards of non-physicians would have been written into law; lawsuit opportunities against physicians would have increased; and poorly thought out "solutions" to the opioid abuse epidemic would have become law.
While a full report will be coming later in the Rotunda, Alabama Medicine Magazine and elsewhere, consider this: in total, there were 1,476 bills and resolutions introduced, with over 250 bills and amendments impacting medicine and/or health care.
Scope of Practice Expansions – Replacing Education with Legislation
Several bills expanding the scope of practice for non-physicians were introduced this session. While none of these bills passed, many are likely to return next session.
Involuntary Commitment
There were a host of bills concerning involuntary commitment introduced this legislative session. In general, these bills (HB381; HB402; HB431; HB435; HB471; SB402) amend current law to allow a certified nurse practitioner or physician assistant to coordinate with a physician or psychologist in deciding to treat an individual who is unable to consent and without having to contact a family member. The goal of these bills is to streamline the involuntary commitment process for facilities in rural areas. The Association worked with multiple groups to successfully add liability protection for physicians before bills passed.
Two-Line Rx Removal & Board of Pharmacy
This Bill (HB69) amends the longstanding two-line prescription law to comport with technological advances. Prior to revisions worked on by the Association, the legislation would have given the Board of Pharmacy the power to create rules and regulations on prescribing practices. This language was successfully removed and the Association fully supported the passing of this bill.
Medication Assisted Treatment (MAT Act)
This bill (SB425) establishes guidelines for the use of buprenorphine in nonresidential treatment programs and authorizes the Board of Medical Examiners to establish regulations governing MAT. In doing so, the BME shall create a working group of 17 addiction medicine specialists and mental health personnel to consult and assist in the drafting of rules. The Association worked alongside Sen. Larry Stutts, M.D. in drafting this legislation and supported its passage.
Medical Marijuana
Having undergone significant changes in the House Health Committee this week, this bill (SB236) now reauthorizes CBD research at UAB via "Carly's Law" and creates a Study Commission to make recommendations to the Legislature relating to the medical use of cannabis in Alabama. The Commission will be comprised of 15 members and will issue its findings and draft legislation by December 1, 2019. The Association will keep you apprised of the Commission's activities as we move closer to the 2020 legislative session.
Truth in Advertising
This bill (SB293) prevents deceptive or misleading health care advertising and requires all health care practitioners to wear a name tag with their name and license type listed as well as requiring the same information be posted in the lobby of their practice or facility and on the practice's website. Although SB239 did not receive a vote for final passage, the Association plans to work with legislators on similar legislation next session.
Rural Physician Tax Credit
This bill (SB374) replaces the current Alabama Rural Physician Tax Credit (enacted in 1993) by amending the definition of rural, strengthening the residency requirement, extending the tax credit from five years to six years. Also, the bill establishes a procedure for documenting physicians who qualify for the program so that sound fiscal numbers can be examined each year. The tax credit is a significant factor in physician retention in Alabama's rural communities. The bill did not pass this year, but the existing tax credit remains in effect.
Abortion: Criminalization of Abortion & Attempted Abortion
This bill (HB314) makes performing an abortion a felony, punishable between 10 and 99 years in prison. There is an exception for when there is a serious risk to the mother's physical health. Although an amendment was added by the committee adding exemptions for situations like rape and incest, the amendment was tabled in the Senate under a procedural move. The bill passed the legislature and has been signed by the Governor. You can read our summary here.
Helpful Links: