Health care providers are generally aware that non-compliance with the Health Insurance Portability and Accountability Act can be costly.  In 2013, when the Department of Health and Human Services (HHS) initiated penalties pursuant to the HIPAA Final Omnibus Rule, the health care industry was abuzz about the impact that these civil monetary penalties could have on their entities if they did not comply with federal regulations. But many providers are not aware that those sanction amounts have increased due to inflation.
With bipartisan support, the Federal Civil Penalties Inflation Adjustment Act Improvements Act of 2015 (yes, the wording is really that awkward) was passed to allow federal agencies to adjust their civil monetary penalties annually to keep up with inflation.  Congress reasoned that this increase would "improve the effectiveness of civil monetary penalties and maintain the deterrent effect of such penalties."
So how does this Act impact HIPAA penalties in 2018?
The easiest way to demonstrate the gravity of these changes is to view the initial penalties issued in 2013 and compare it to the penalties available to HHS in 2018.  A cursory glance reflects the opportunity to impose steeper fines.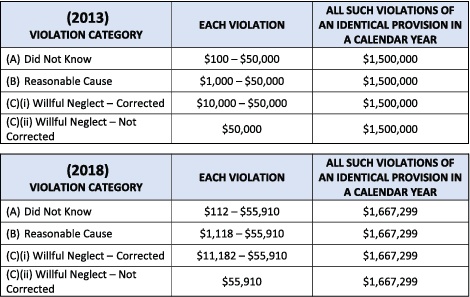 How can you keep up with the changes?
Readers of the Rotunda and Alabama Medicine will be regularly informed of changes to HIPAA civil monetary penalties by Dunson Group, LLC.  Additionally, federal agencies are required to publish their annual inflation adjustments in the Federal Register by January 15 of each year.  Information on specific HIPAA violations may be found under the Office of Civil Rights (OCR) category of the Electronic Code of Federal Regulations.
Article contributed by Samarria Dunson, J.D., CHC, CHPC, attorney/principal of Dunson Group, LLC, a health care compliance consulting and law firm in Montgomery, Alabama. Find more of Ms. Dunson's contributions on her partnership page.