Young Physicians Have New Opportunities at Annual Meeting
The 2017 Annual Meeting and Business Session added a separate educational track designed specifically for Young Physicians, Resident-Fellows and Medical Students to allow this group of young medical professionals the opportunity to meet established physicians as well as network with other colleagues from across the state.
New Concurrent Educational Sessions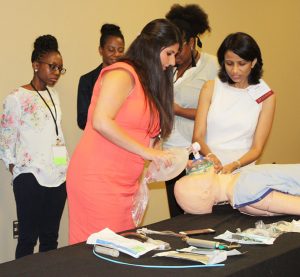 While encouraged to attend many of the general sessions, such as the Ellann McCrory, M.D. Leadership Lecture with Auburn University Basketball Coach Bruce Pearl and the Jerome Cochran, M.D., Lecture with James B. McClintock, Ph.D., concurrent sessions were set aside to engage these young physicians just starting their medical practice. Medical Association Partner Regions Bank offered two sessions, Banking Basics for Residents and Students and Maximizing Your Personal Wealth, while Sirote & Permutt, P.C., discussed Contract Negotiations. Zalak Patel, M.D., with the UAB School of Medicine, Montgomery Regional Medical Campus, offered a hands-on Basic Airway Management Skill Session.
Special Exhibit Hall
A second exhibit hall filled with residency programs and Alabama physician recruiters offered a wide range of in-state opportunities for these young professionals. The Medical Association would like to extend special thanks to the following exhibitors:
American Medical Association
Anatomage, Inc. (Virtual Dissection Demonstrations)
Andalusia Health
Brookwood Baptist Health Residency Program (Internal Medicine, Pathology)
Community Hospital, Inc., (General Surgery, Radiology and Transitional Year)
Medical Center Enterprise
Montgomery Family Medicine Program
Quality of Life Health Services
St. Vincent's East Family Medicine Residency Program, Team Health
UAB Montgomery Internal Medicine Residency Program
UAB Selma Family Medicine
UAB SOM Huntsville Campus, Family Medicine Program
University of Alabama at Birmingham Vascular Surgery Integrated Residency
University of South Alabama Psychiatry
Hotel Scholarships Awarded Via Essay Contest
To help offset the cost of staying overnight for the conference, the Medical Association awarded 12 hotel scholarships for Resident-Fellow and Medical Student Section attendees who successfully submitted a one-page essay on the importance of organized medicine. Students receiving this scholarship were: Ankita Mahajan, ACOM; Adena Shahinian, ACOM; Taylor Bono, UAB; Natasha Mehra, UAB; Jessica Powell, UAB; Tushar Ramesh, UAB; Ricky Seeber, UAB; Dillon Casey, USA; Will Lightfoot, USA; Olivia Means, USA; Brianna Clark, VCOM; and Mahreen Arshad, Resident, Brookwood Baptist Hospital.
Poster Symposium a Huge Success
The Second Annual Poster Symposium was a rousing success with 32 entries from members of the Medical Student and Resident-Fellow Sections. All medical schools and many residency programs participated in this year's program, and the quality of the posters was outstanding.
Congratulations to those who took the time to create research projects and present them to the physicians and committee members.
Third place winner Stephen Layfield, a student at UAB, received $125 for his poster, Building and Deploying a Clinical Data Warehouse at a Student-Run Free Clinic: A One-Year Review.

Second place winner Roxanne Lockhart, a student at UAB, received $200 for her poster, Effect of O-Linked ß-N-Acetyl-Glucosamine Posttraumatic Brain Injury.

First place winner Bradley Wills, M.D., an orthopaedic surgery resident at UAB, received $300 and the opportunity to present his research poster at the 2017 AMA Interim Meeting in Honolulu in November. His poster was entitled, Outcomes with Overlapping Surgery at a Large Academic Medical Center.
Special thanks to Poster Symposium Committee Ricky Seeber and Natasha Mehra from UAB, as well as Poster Symposium Judges Jorge Alsip, M.D., Paul O'Leary, M.D., and Irma DeLeon, M.D.
Elections for Board of Censors Representatives
The sections also held elections for representatives to the 2017-2018 Medical Association's Board of Censors:
Mark Haygood, D.O., Young Physician Section Representative
Emily Goulet, M.D., Resident-Fellow Section Representative (University of Birmingham)
Caitlyn Marshall, M.D., Resident-Fellow Section Co-Representative (University of South Alabama)
Benjamin Bush, Medical Student Section Representative (University of South Alabama)