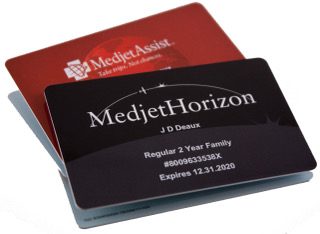 MEDJET | TRAVEL PROTECTION ELEVATED
Medjet is the premier global air-medical transport and travel security membership program for travelers. Accidents, illness and safety concerns can happen anywhere. Medjet can get you home.
As a MedjetAssist member, if you become hospitalized internationally or domestically — 150 miles or more from home — Medjet will arrange medical transport to your home-country hospital of choice for inpatient care. All you pay is your membership fee.
MedjetHorizon includes all the air medical transport benefits of a MedjetAssist membership, plus worldwide travel security and crisis response services to a wide range of safety concerns and threats while traveling, including: terrorism, violent crime, political threat, natural disaster and more. Insurance typically gets you to the "nearest acceptable facility." Medjet can get you all the way home.
DISCOUNTED ANNUAL MEDJET RATES:
MedjetAssist | Air Medical Travel Protection: $235 Individual and $320 Family
MedjetHorizon | Medical Transport, Security, Crisis Response: $364 Individual and $514 Family
Medjet is a Medical Association of the State of Alabama Preferred Partner.
Learn more and enroll prior to travel | Visit www.Medjet.com/MASA or call (800) 527-7478, and mention MASA.