Alabama Medicine — Our Flagship Magazine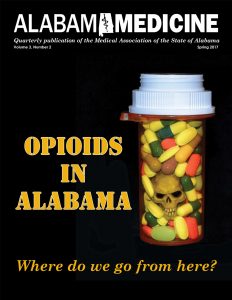 Alabama Medicine is the quarterly magazine of the Medical Association of the State of Alabama. The magazine is published and delivered to all physicians licensed and practicing in the State of Alabama. Alabama Medicine is a news magazine with information on issues related to medical advocacy, public health, medico-legal matters and practice management.
Advertising in Alabama Medicine is available. For more information, please contact Lori Quiller, APR, at (334) 954-2580.
ROTUNDA — Our Weekly E-Newsletter
Our weekly e-newsletter, ROTUNDA, will keep you up-to-date on the latest legislative issues affecting physicians, their patients, and their practice. Each Friday, ROTUNDA is emailed to you with helpful articles, as well as calls-to-action, to keep you in the know.
If you don't already receive ROTUNDA, email us and request to be added to the list.